Thandiani at an elevation of 2750 meters is supposed to be the coolest among the hill stations of Pakistan. It commands grand and lovely views. To the east beyond the Kunhar may be seen the snow clad ranges of Kashmir. To the north and northeast are the mountains of Kohistan, Bhogarmang and Kaghan. To the northwest ar the snowy ranges of Swat. To the west are the Black Mountains. To the southwest, one can have a panoramic view of Abbottabad plains and the distant Tarbela Lake, and to the south are Miranjani and Pine clad slopes of the Gallis.The approach to Thandiani is from Abbottabad, but it can also be reached from Murree-Nathiagali route.
T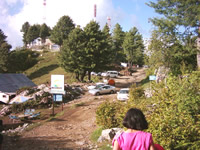 handiani is 31 KM from Abbottabad and 25 KM from the Thandiani-Nathiagali crossing. The drive from Abbottabad takes more or less 90 minutes, with lovely views on both sides of the road. The road is metalised all the way. Thandiani is an undeveloped tourist spot. The abandoned buildings, a small church and GPO are the only imposing structures around a few small huts and tea stalls. The absence of electricity and water supply has not allowed this place to get overdeveloped like Nathiagali and Ayubia.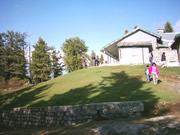 This place has all the potential to develop as a good base for ecotourism activities. It is totally unspoiled and has lovely views all around.